The Webwinkel Vakdagen event in Utrecht this year was an
absolute blast! On Wednesday 29th and 30th March, the
Jaarbeurs conference center became a hub of excitement as the
entire e-commerce sector descended upon the venue for two
days of knowledge, solutions, and networking opportunities.
For over 16 years, the Webwinkel Vakdagen has been the go-to
event for the e-commerce community, not only in the Benelux
region but increasingly among European and global vendors
and visitors. And it's easy to see why! With free entry, visitors
could take advantage of a wide range of themes, an exhibition
floor, and high-quality lectures, all providing valuable insights to
boost their digital activities and online success.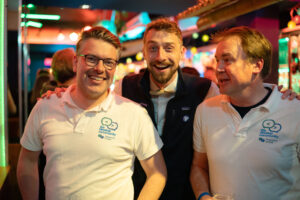 As one of the steady visitors, Shopware United took the
initiative to host a pre-party event the evening before for the
Shopware community and like-minded individuals. Over 150
people enjoyed drinks, nibbles, and good times, thanks to the
strong support of our loyal sponsors Dot Digital and Tracify. It
was an incredible networking opportunity, and we witnessed
many valuable connections being made.
---
Throughout the Webwinkel Vakdagen, Shopware United was
fully present, speaking to many of the Shopware partners and
clients in the Benelux region. The hot topic of discussion?
Shopware pricing, of course! But don't worry; we'll dive into this
further in our next Community Voice Project over 2023.
And the fun didn't stop there! On the first evening, Sendcloud
and Klaviyo invited us to a special event hosted in one of the
classic Utrecht Canal basements. We had a ball playing Jeux des
boules and enjoying the typical Dutch beers and bitterballs.
Plus, a platter of sliced sausages and cheeses that had us all
licking our lips.
Overall, the Webwinkel Vakdagen event for 2023 was a massive
success, and it was fantastic to see the Shopware community
very alive, visible, and full of energy. We can't wait for the next
edition in January 2024 and hope to see you there too! So, mark
your calendars and join us for another round of exciting e-
commerce insights, fun networking opportunities, and
unforgettable memories.
---