From Brexit to a global pandemic, the past 18 months have changed the rules of commerce in all industries, but particularly the food & beverage (F&B) vertical. Jenny Brown, Head of Marketing at Paxton & Whitfield and Jeremy Grieve, CEO of The Fish Society shared some insights on how they mastered Covid and what is next for their businesses.
These two leading retailers in the food & beverage industry joined a panel discussion hosted by Ben Marks, Global Head of Market Development at Shopware during the first Shopware United UK Meetup held in October.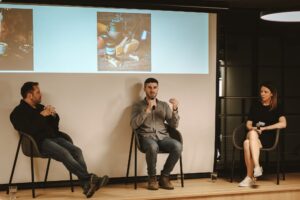 Handling the challenges of the pandemic
When Covid first hit, Jeremy mentions that "the pandemic turned our whole operations upside down," however the company adjusted quickly and saw immense growth in their online revenue a few months later. The team scaled up its operations swiftly and even moved into bigger premises to account for the growth . A new challenge quickly formed in keeping up the pace and making sure everyone was safe operationally. Ordering fish internationally also became more complicated and The Fish Society had to change their procurement processes and streamline internal digital systems in order to fulfill the incoming demand.
Paxton & Whitfield faced a different challenge because their main source of business was their brick and mortar store, which they chose to close. The wholesale side also suffered, but the ecommerce side really took off. Testing and analytics were key for them and the digital focus allowed them to gain a lot of insights into their customers preferences and to act quickly. Frequent Net Promoter Score (NPS) surveys helped them tighten up their processes to ensure that the customers remained happy. This led to the business changing their investment strategy and restructuring the head office to focus more heavily on digital marketing. Given the circumstances, this was a very bold move that has since paid off..
Post Covid…
Paxton & Whitfield have moved many of their signature store experiences online, including their cheese tastings and their cheese academy courses. Due to a heavier online focus, everything they did could be analysed and tested, giving the business a lot of insights to work with. Jen reflects on how much they can learn from their British cheesemakers including  their stories, passion and heritage. She goes on to further discuss how this can be relayed back to the consumers on the website.

For The Fish Society, testing and trying out different kits and experiences for their customers was also an area they explored throughout the pandemic. One example was that The Fish Society was selling a lot of sashimi, which was an opportunity they saw for expanding into selling sushi kits. They are also focusing on areas like their presentation kitchen and possible collaborations with culinary schools or specialised chefs to create experiences for their customers. Watch this space for more information on this!
Closing Remarks: Both merchants had a lot of interesting insights to share, especially around their supply chain and logistics, exchanges with other retailers and new developments in their businesses. You can see the full panel discussion here.
‍