Shopware United had their first ever event on US soil yesterday (22nd Sept), and what an event it was. As over 80 people had signed up we had to move the event from the Shopware Offices, and over 50 people joined us at the historic Fraunces Tavern to celebrate.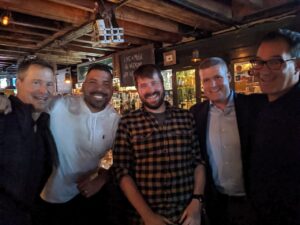 We had speeches from Yitz Lieblich  from Web Solutions NYC and Stephen Stark from ITG Commerce who spoke about the first projects that they had undertaken with Shopware, some of the challenges they faced and the level of support that they received.  Shopware United is all about getting developers together so that they can surmount obstacles more efficiently, and this event was a case in point!
There were a few drinks, a lot of laughs and plenty of community spirit – again – just what Shopware United events are all about.
Thanks go to the speakers for their efforts and to all those who helped make it a great event.
You can see pictures from the event HERE
Here's to the next one!